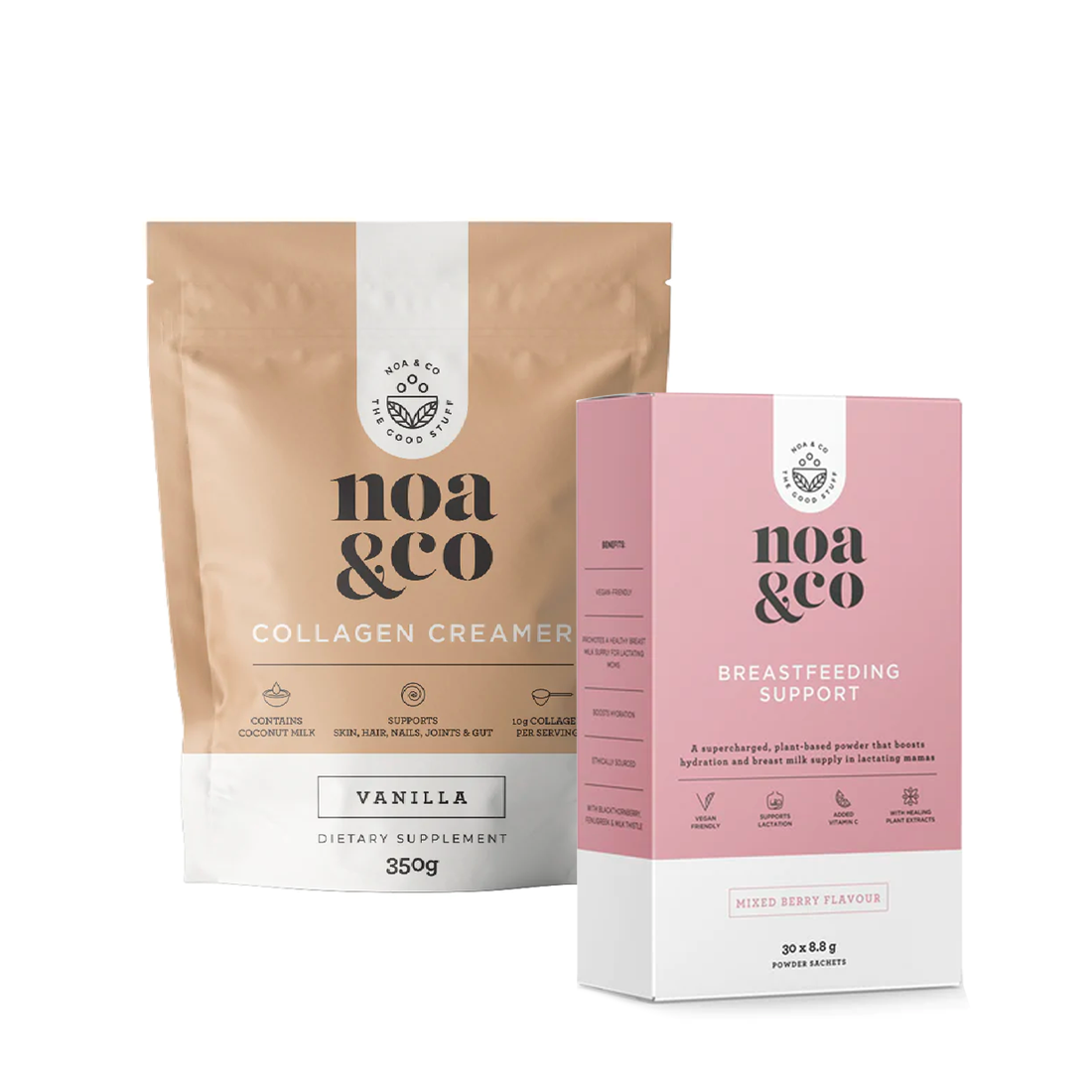 Your favourite Collagen Creamer + Breast Feeding Support in a conveniently priced bundle
Collagen Information
Who says you can't stay forever young?
Responsible for many processes in the body, collagen is a protein that everyone needs. The bad news is, our bodies produce less collagen as we age. The great news is, this complex formulation contains an impressive 19 amino acids, alongside medium-chain triglycerides (MCTs) and the goodness of organic coconut milk powder for a creamy, collagen-packed supplement like no other.
Benefits
Supports gut, joints, hair, skin and nails
Lowers inflammation in the body
Improves muscle tone
Slows the ageing process
10g Collagen per serving
Medium chain triglycerides (MCTs)
Lauric Acid
Ethically sourced
Halal and Kosher certified
Low-carb
Free from
Dairy
Gluten
Sugar
GMO
Artificial sweeteners, preservatives and colourants
Directions
Add three teaspoons to coffee, tea, smoothies or any other beverage of your choice.
Ingredients
Collagen peptides, Coconut milk powder, Fibregum, Natural vanilla flavour

Allergens
This product was manufactured in a facility that uses eggs, dairy, soy, wheat (gluten) and nuts.
Typical Nutritional Information
| | | |
| --- | --- | --- |
| Average Values | g / 100g | g / 15g serving |
| Energy (kJ) | 1741.1 | 261.8 |
| Protein | 62.1 | 9.3 |
| Carbohydrate | 6.3 | 1.0 |
| of which Total Sugar | 0.0 | 0.0 |
| Total Fat | 15.1 | 2.3 |
| of which Saturated Fat | 13.9 | 2.1 |
| of which Polyunsaturated Fat | 0.0 | 0.0 |
| of which Monounsaturated Fat | 0.3 | 0.0 |
| Dietary Fibre | 2.2 | 0.3 |
| Sodium (mg) | 418 | 62.9 |


Breast Feeding Support Information


A supercharged, plant-based powder with Blackthorn Berry, Fenugreek, Milk Thistle, and Vitamin C to boost hydration and breast milk supply.

Moms, they're the real deal. With post-partum challenges adding even more to a mama's plate, we didn't want maintaining milk supply to be one of them. After much collaboration with healthcare professionals and many successful trials of happy moms and babes, we've created a supplement that's healthy, natural and best of all, effective. Meet our Breastfeeding Support, a safe and convenient way for mamas to stay hydrated and boost their milk supply without added preservatives and unnecessary sugars. Traditional "juices" to aid lactation often equal loads of sugar and the hassle of having to mix it yourself. Our formulation is fast-dissolving and in convenient 5g sachets to support moms at home and on the go. Simply throw a few in the nappy bag, add them to water or apple juice and shake.


Benefits
Vegan-friendly
Promotes a healthy breast milk supply for lactating moms
Boosts hydration in line with World Hydration Protocols
Lower in sugar, higher in anti-oxidants
Ethically sourced
Free from dairy, gluten, soy, sugar, GMO, artificial sweeteners, preservatives, and colourants

Free From

Dairy
Gluten
Soy
Sugar
GMO
Artificial sweeteners
Preservatives
Colourants

Key Ingredients

Blackthorn Berry – A shrub whose extracts help reduce fatigue and increase vitality.
Fenugreek – A herb that aids in lowering blood sugar levels, increasing milk production and easing inflammation.
Milk Thistle – A thistle containing plant estrogens that boost milk supply.
Vitamin C – A key compound for breast milk and essential for immunity and the repair of all tissues.

Directions

Combine one 5g sachet with 500ml of cold water and mix well.  
Ingredients

Dextrose, Vitamin C (as Ascorbic acid 1000mg), Blackthorn- berry extract 10:1 (900mg), Trisodium citrate (725mg), Sodium chloride (650mg), Fenugreek extract 20:1 (600mg), Flavouring, Milk thistle (80% Silymarin) (400mg), Potassium chloride (375mg), Stevia.
Nutritional Info

| | | |
| --- | --- | --- |
| | g / 100g | g / 8.8g serving |
| Energy (kJ) | 760 | 67 |
| Protein | 0.0 | 0.0 |
| Glycaemic carbohydrates | 394.5 | 34.7 |
| of which total sugar | 38.5 | 3.4 |
| Total fat | 0.0 | 0.0 |
| of which saturated fat | 0.0 | 0.0 |
| of which unsaturated fat | 0.0 | 0.0 |
| Fibre | 1.3 | 0.1 |
| Sodium (mg) | 2925.9 | 257.0 |