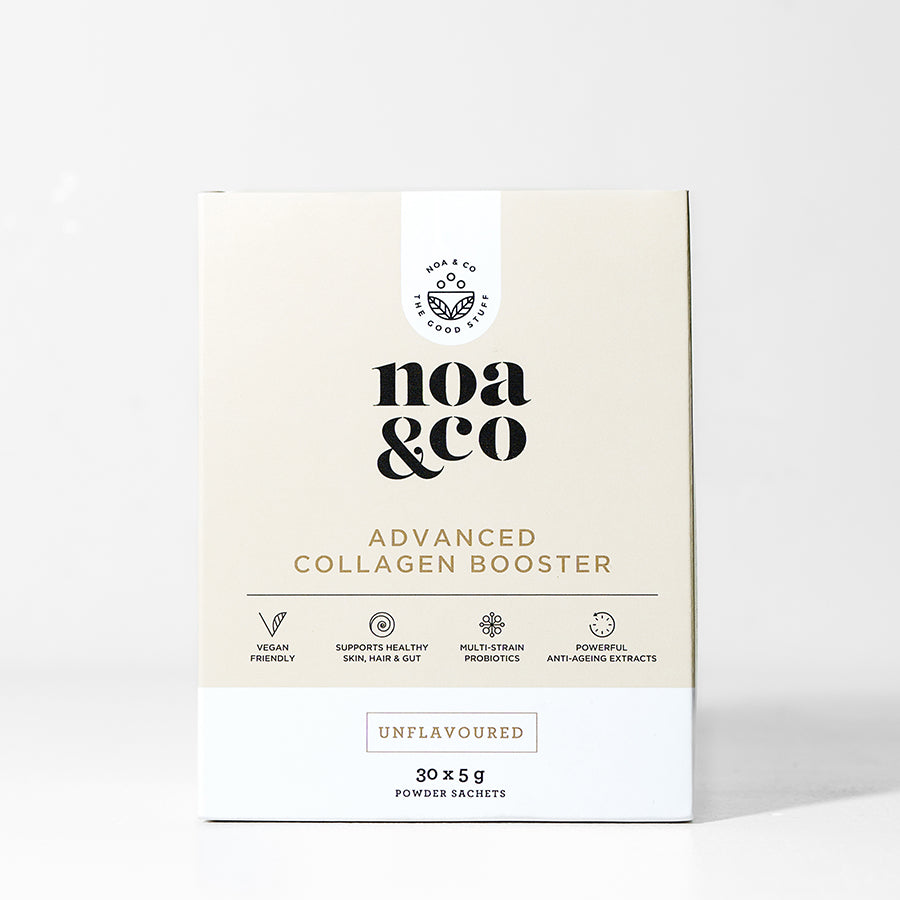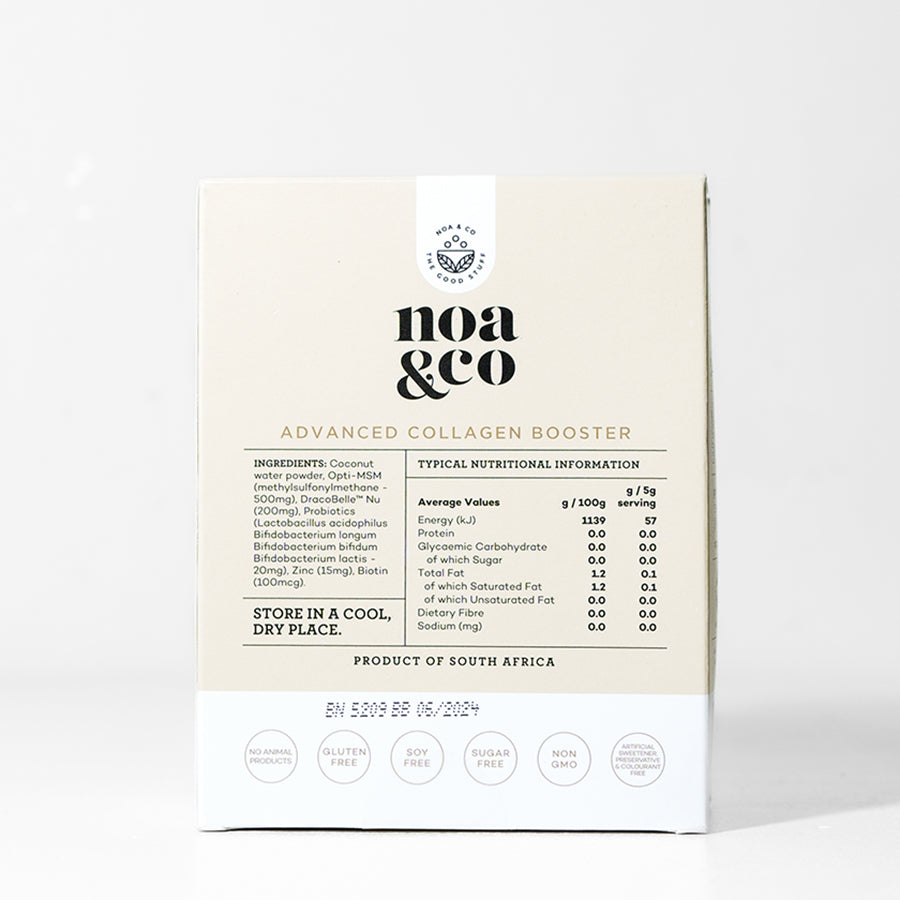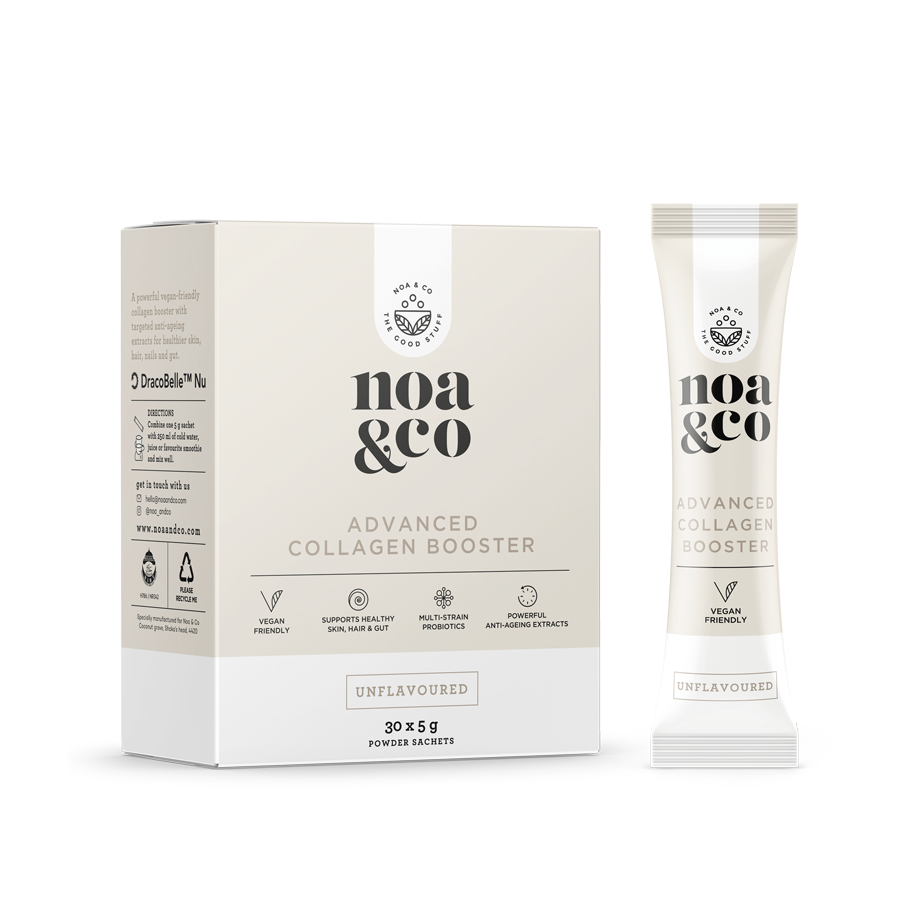 Advanced Collagen Booster
A small but mighty vegan collagen booster with game-changing DracoBelle Nu™, Opti-MSM and Biotin.
After years of research and several formulations, our newest member of the Noa & Co family is here. Meet the first clinically-backed vegan collagen booster in South Africa! With a powerful trio of anti-ageing extracts and a multi-strain probiotic, now anyone can support healthier skin, hair and gut with zero carbs or animal products. Available in convenient 5g sachets, our fast-dissolving Advanced Collagen Booster can be enjoyed at home or on the go by simply adding it to water, juice or even a smoothie for a dose of the good stuff with none of the nasties. 
Benefits
Vegan-friendly
Zero carbs
Hydrating coconut water powder
Multi-strain probiotic for a healthy digestive tract
Ethically sourced
Powerful antiaging extracts DracoBelle Nu™ and Opti-MSM for an all-in-one hair, skin, and nail supplement like no other
Dissolves easily in your choice of cold beverage (we don't recommend coffee)
Free from all animal products, gluten, soy, sugar, GMO, artificial sweeteners, preservatives, and colourants
Key Ingredients

DracoBelle Nu™ – A unique water-soluble extract from Moldavian Dragonhead that drives skin's moisture, density and elasticity from within.
Opti-MSM – An organic compound essential for healthy tissue and skin, hair, and nails.
Biotin – A vitamin required by the body to metabolise amino acids, the building blocks of proteins that influence keratin production.
Probiotics – A multi-strain probiotic that delivers 1 billion CFU per serving for improved digestive health because true wellness begins in your gut.
Ingredients
Coconut water powder, Opti-MSM (methylsulfonylmethane - 500mg), DracoBelleTM Nu (200mg), Probiotics (Lactobacillus acidophilus Bifidobacterium longum Bifidobacterium bifidum Bifidobacterium lactis - 20mg), Zinc (15mg), Biotin (100mcg).
Nutritional Info
| | | |
| --- | --- | --- |
| | g / 100g | g / 5g serving |
| Energy (kj) | 1139 | 57 |
| Protein | 0.0 | 0.0 |
| Glycaemic Carbs | 0.0 | 0.0 |
| of which sugar | 0.0 | 0.0 |
| Fat Total | 1.2 | 0.1 |
| of which saturate | 1.2 | 0.1 |
| of which unsaturated | 0.0 | 0.0 |
| Fibre | 0.0 | 0.0 |
| Sodium (mg) | 0.0 | 0.0 |